Dernière minute... Breaking news...
Les "Tweets" de La Chaîne Meteo concernent généralement la France métropolitaine
National Hurricane Center via Wunderground
Le ciel depuis St Barth en direction de St Martin. Rafraîchissement automatique chaque minute. Si vous voyez un objet dans le ciel, c'est en fait un des avions faisant la navette avec St Martin qui fait sa périlleuse approche vers le Col de la Tourmente (à droite). Skies over St Martin. View from Gustavia, St Barth. Automatic refreshing every minute. If you see an object in the sky, it's probably a commuter aircraft coming from St Martin and making its risky approach to the Col de la Tourmente (at right)...
St Barth, images, plane and Vidéos d'atterrissages et de crash à St Barth. Video: landings and crash in St Barth.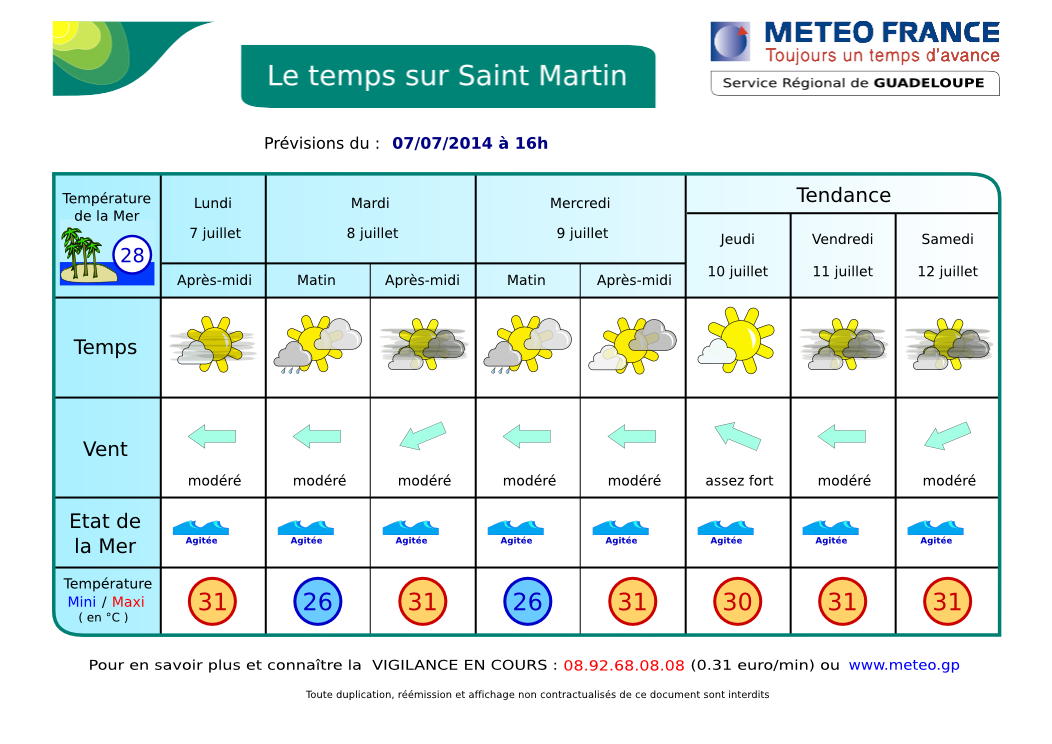 Cliquer sur l'image pour l'agrandir / Click in image to enlarge
Attention, les données transmises sont parfois fantaisistes notamment la pluviométrie qui ne fonctionne pas bien.
Coup d'oeil sur le temps à St Martin et St Barths grâce au webcams en temps-réel.
Les images ici ne sont pas rafraîchies automatiquement. Cliquez sur les images pour les actualiser à la demande. Une nouvelle image est généralement disponible chaque minute sauf pour la camera IP NBBC3 et celle de l'hôtel Karl Gustav (chaque seconde). Si une "webcam" refuse de s'afficher, cela signifie que le serveur est peut-être temporairement "down" ou que votre connexion est un peu faible. Essayez de cliquer sur l'image pour la ré-afficher. Si cela ne fonctionne toujours pas,
vous pouvez essayer de fermer cette page puis,
ouvrir une page simple comme google.com
Vider votre cache (Maj+Ctrl+Suppr) ou le faire dans les paramètres de votre navigateur.
Puis ouvrir à nouveau http://st-martin-meteo-weather.blogspot.fr/
Vous pouvez aller sur cette
carte en temps-réel
pour tenter d'identifier les navires remarquables que vous repérez sur ces images.
Camera IP NBBC3. Elle ne peut pas être rafraîchie sans rafraîchir toute la page. Rien à voir de nuit! L'afficher dans un autre onglet ou une autre page:
WEBCAM NBBC3
Click image to refresh on demand (60 seconds - visible only during the day)
Click image to refresh on demand (60 seconds or less - visible during the night too)
Click image to refresh on demand (60 seconds)
Click image to refresh on demand (60 seconds or less)
Webcam d'Anguilla en streaming (vidéo). Plusieurs webcams ont fait leur apparition sur Anguilla pour cette nouvelle saison touristique.
Une webcam d'Anguilla (ne peut être rafraîchie pour l'instant - Not refreshable at this time). Les couleurs ne sont vraiment pas bonnes. Probablement un modèle d'entrée de gamme ou un mauvais réglage....
Un excellent produit:
NHC/TAFB Experimental Gridded Marine Forecast
(vents, houle, cyclones, etc..)
Naissance d'une île volcanique
Ces plaisanciers ont eu la chance de leur vie d'assister en direct à la naissance d'une île volcanique dans le Pacifique Sud. Les premières images montrent ce qu'ils ont vu au début, de la pierre ponce flottant sur la mer... Puis, en continuant à naviguer dans cette marée grise, ils ont fini par apercevoir l'éruption volcanique sous-marine à l'origine de cette pollution (nuage de vapeur et fumée). Au fil des heures, une nouvelle île va apparaître...
Ci-dessous, cliquez sur les images pour les agrandir - Click images to enlarge...
A yacht was sailing South Pacific when the crew came upon a weird sight. Look at photos and imagine thrill of experiencing this phenomenon.